STAFF REPORTS

The Kannapolis School Board was honored with outstanding district representatives at its January meeting.
The board began by recognizing those at GW Carver Primary School.
Mingo is one of GW Carver's first year "superstars". This young man has such a huge heart, he always takes care of other students and is a great friend. Mingo puts in 100% effort every day and works incredibly hard with his learning. Walker likes to learn new things and participates quickly, he also likes to share his creativity through the arts. Mingo pays close attention to detail while doing his homework and will often ask if he can lend a hand to others.
His teacher, Ms Love, shared: "Walker is such an amazing student! He always FLIES in all areas of the school and is such a great role model who sets a wonderful example for his classmates! »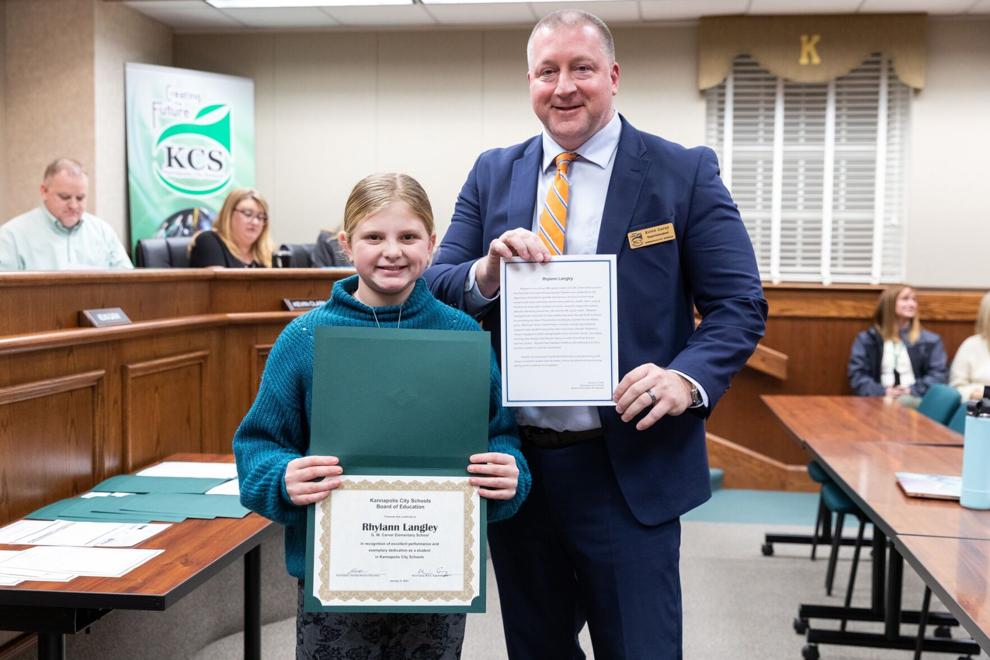 Langley is one of the fifth year leaders at GW Carver who is such a kind and respectful young lady! She also understands the importance of academic growth and success, loves learning new content and works extremely hard to excel in her studies. She is a great friend to so many other Carver students, everyone appreciates her positive attitude and presence.
Her teacher, Ms. Sauve, said, "Rhylann exemplifies the character of a star student because she brings kindness to everything she does. She prioritizes setting an example for her fellow students, offering to lend a hand if help is needed and providing emotional support to any student around her who might need a friend! »
Langley is always committed to what is being taught in all of her classes, she also enjoys learning new things in her booster classes.
One of her booster teachers shared, "Rhylann has a kindness and unrelenting willingness to set a positive example to lead her classmates!"
Van Beek and his colleagues at Nova Credit Union have been a tremendous asset to GW Carver over the past few years. They have worked extremely hard to support our students and staff, for which we are extremely grateful. Knowing the many demands and tireless work involved in being an educator, Van Beek wants our team to feel valued and loved. Throughout the school year, she and her colleagues will bring treats and gifts to share with our staff. There were carts of cocoa and cookies pushed down the halls as well as tables set up with this team staying for hours to distribute a delicious lunch to all of our staff. These kind gestures go a long way in making the staff feel appreciated for their hard work. She and Nova Credit Union also supported GW Carver by dressing the walls and hallways with beautiful bright paint and illustrations of pictures and quotes. School supplies have been donated and delivered when needed, they are always ready to support GW Carver staff, students and families. Van Beek and his team at Nova Credit Union have been a real blessing to the Carver community and we are so grateful and lucky to have them!
Partee has been a strong support for KCS at GW Carver for several years as an engaged parent, however, recently we were able to convince her to return to support as a substitute teacher. She does an outstanding job of ensuring that the teaching day continues as a normal school day, as it would if the class teacher was present. She learns quickly and will grab grade level content to then execute delivery, she does a great job of keeping lessons fun, lively and engaging! Partee recently accepted a long-term position for maternity leave and has been outstanding! He is a person who always asks what can be done to support students and staff in every available moment of his day! Partee continues to create and develop positive relationships with students, families and staff. Everyone at Carver feels lucky to have Partee as a support on our team and hopes she will continue to be so for many years to come!
It is imperative to have strong support staff within a school because they help in so many different ways every day. Morgan is a Teaching Assistant at GW Carver who goes above and beyond to provide everything students and staff need on a daily basis.
A colleague shared: "Mrs. Morgan always asks what she can do for others and goes out of her way to make sure it gets done. She's kind, always smiling and it's just a joy to be with her.
At the start of the 2022-2023 school year, we had a big need because one of our teachers was on maternity leave. Morgan unhesitatingly took the lead as a teacher in this kindergarten class and was nothing short of amazing! She worked alongside the kinder teachers to ensure the classroom was ready to welcome students back and that the daily lessons were of a high caliber. Morgan taught this course from day one through November and taught it like a certified teacher would! Morgan is also responsible for our before school care program, will often step in to support the front office and will be seen in all of Carver's locations and spaces as she does it all!
Another colleague said: "Mrs. Morgan works tirelessly with students on their individual needs and commends them on their growth. Above all, she LOVES people…kids, parents and co-workers! We totally agree and we are very lucky to have Mrs. Morgan in the lead here at Carver!
Holt is one of the newest members of GW Carver's team who brings so much fun and excitement to school and the callback team as a dance teacher. Holt has created an engaging and safe learning environment within her dance studio where students explore the art of dance on a weekly basis. Her lessons are well thought out to ensure that students will feel like dancing and moving, she also sees that the content is relevant and relevant to her learners. Holt created the first-ever GWC dance team this year, which practices weekly after school. This team of 30 students showcased their talents at grade level arts showcase events for parents and also participated in the City of Kannapolis Christmas Parade this year. The fun and laid back attitude she brings to GW Carver is contagious and helps create a positive working and learning environment for all.
A colleague of hers said, "Ms. Holt gives our students real dance lessons while inspiring their creativity. She is always upbeat and has a fun attitude, plus she has to help the young kids with their socks and shoes sooooooo…. »
Holt has been a wonderful addition to the staff at Carver, we love all the positivity and creativity she brings to our staff and students, we are excited to see her continue to grow as a leader!
Hilbish Ford Teacher of the Month
The board was also recognized as Hilbish Ford Teacher of the Month Micah Kelly, an eighth grade teacher from Kannapolis Middle School.
Micah Kelly is an amazing and versatile eighth grade math teacher and cheer coach at Kannapolis Middle School.
The student who nominated Kelly said: "Coach Kelly always gives more and tries to make us better. She makes us work for it, helps us to succeed and is always so proud of us. The students all love him, whether they have him for maths or have him as a coach, like me. Coach K helps make us wonders! She is the best!"
We are extremely proud that Kelly has grown and continues to be part of the KCS family, and we are thrilled that Hilbish Ford is presenting her with the Hilbish Ford Outstanding Teacher Award for January. Congratulations, Micha!
Retired
Brown is a wonderful goaltender at AL Brown High School. Brown has a strong heart and loves AL Brown. She loved seeing happy students on campus and greeted them with a smile every day. Brown has been a huge asset in getting the school ready for the start of a new school year, spending time during the summer months running machinery on the ground and making sure the building was prepared from top to bottom. low for returning students.
Brown, thank you for all you have done for students and staff, both at AL Brown and for KCS. We hope you are enjoying your retirement!
Cress has been an invaluable asset to the transportation department. She always arrived ready to work with a smile on her face. Cress always took the time to really get to know his students. Whenever she had a concern, she would stop by my office to share what was going on. When her co-workers were asked to share a word that described her as kind, friendly, fun and compassionate, some of the answers were given. Upon learning of his retirement, a parent called to say what an important role Cress had played in his child's life over the past few years. We are thrilled for Cress and her new adventure, but she will certainly be missed.
Thank you for your service to KCS students and we wish you good luck!
Parker has dedicated over twenty years to KCS. During this time, she has worn many hats, most recently as Director of K-12 Curriculum and Instruction. In this role, Parker consistently provided district and school team members with support and guidance in the service of our students. Under his leadership, KCS transitioned as a district to standards-based report cards, launched the first KCS dual-language immersion magnet program, and spearheaded elementary education programs. More recently, she has helped educators navigate the multiple transitions caused by the pandemic. With that lingering smile, Parker has helped so many people grow in their capacity as educators and leaders. Through her deep relationships with staff and her willingness to step up and provide support with a smile, Parker has had a huge impact on the lives of all of us and we are thrilled for her as she begins this new adventure. Thank you, Dr. Parker!