As school districts across the United States face staffing shortages among departing teachers and colleges provide fewer replacements, some states are resorting to unusual measures.
California, New Mexico, Oklahoma, Missouri, Alabama and Arizona are among the states easing requirements for educators, according to The Associated Press.
The situation is not yet hopeless in Mercer County, but even here school districts are feeling the pinch.
Dr. Wayde Killmeyer, executive director of Midwestern Intermediate Unit IV, said all Mercer counties have all reported shortages of some kind. The Intermediate Unit, based in Grove City, administers programs for 27 school districts in its coverage area, including 12 districts in Mercer County.
Acting Education Secretary Eric Hagerty asked the state's 500 public school districts to assess potential staffing shortages school districts may face and whether there is a risk that a district does not open because of these shortages.
In general, districts reported a need for service personnel, such as janitors and maintenance staff, and paraprofessionals, such as teacher's aides.
This has been the problem in the Sharon City School District, where new graduates of the teaching program go straight to full-time jobs instead of starting out as teaching assistants.
"Traditionally, we've had recent college graduates come in to fill our title (I) aide positions," Sharon Superintendent Justi Glaros said. "It's not a full-time position, but it's a good springboard job.
Due to the shortage, these graduates are now moving directly into full-time teaching positions, creating vacancies for the teaching assistant positions they might otherwise have filled.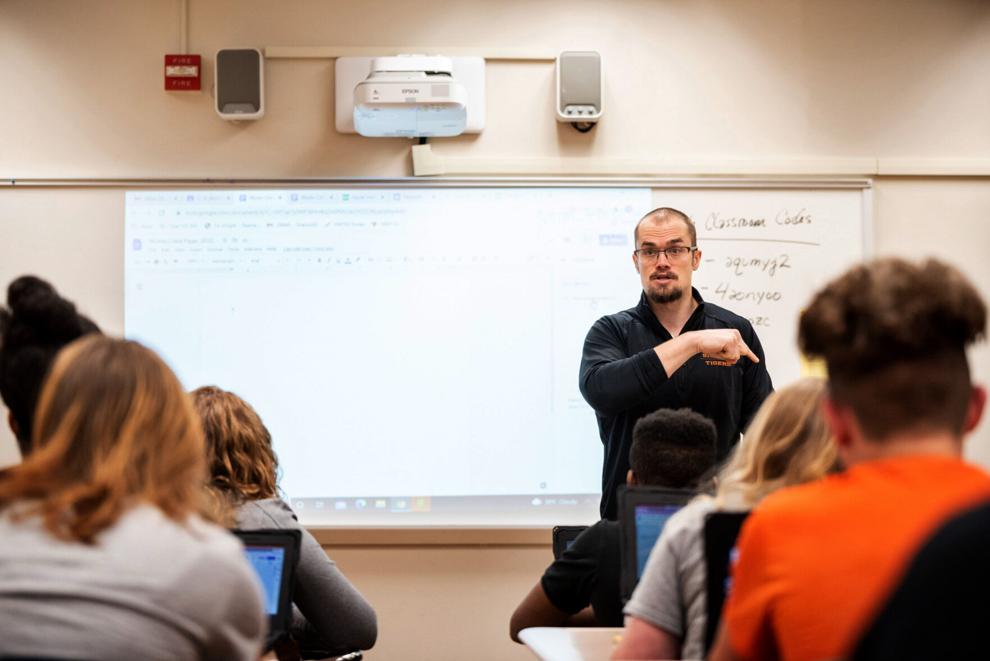 Glaros said Sharon is full for the upcoming school year after hiring two primary school teachers to replace retired instructors. The district also revived a social studies program at the higher levels and hired a teacher for the position.
She thanked the school board for creating a guidance counselor position to focus on the social and emotional health of students.
By the numbers
Killmeyer said the shortage was partly down to wages, as companies like Amazon or Walmart have done well financially during the COVID-19 pandemic and can afford to hire more people at higher wages than they would. school districts can easily match.
There are also fewer experience and license requirements for jobs such as laborer or truck driver compared to working in a school with children.
"If someone can work in a school and earn X, or work at Amazon and earn $10 more without having a degree or a license, then that's an easy decision," Killmeyer said.
Dr. Dan Bell, superintendent of the Hermitage school district, said the system is "full" for the coming school year, with about eight teachers, an administrator and several support staff hired from the late spring through summer.
The district also has a pool of approximately 40 replacements to call upon, although these replacements are usually on other school districts' rosters and do not necessarily mean that there will always be 40 replacements available if a situation arises. , Bell said.
"They're always in high demand," he said of substitute teachers.
Bell said it has seen figures indicating that a nationwide decrease in the number of people entering the education field is to blame for the shortage. The Associated Press reports that the number of incoming teachers has fallen from 275,000 in 2010 to less than 200,000 in 2020. Projections indicate that the number will fall below 120,000 by 2025.
So far, there's no indication the trend will change soon, Bell said.
"The pool of applicants is tighter than it's ever been," he said.
While raising wages could be a possible solution, Killmeyer said it could lead to a situation where school districts compete with each other, instead of competing with other businesses.
Another opportunity could be the organization of a job fair, since the intermediate unit organized a similar fair last May which received a positive response from school officials and candidates.
"We had teachers and para-professionals coming through the door and applying, so doing something like this again might be a good plan," Killmeyer said.
Employment references by existing staff could also help alleviate the problem, and this is something that is already in place at the Intermediate Unit.
While some school districts already offer job referral bonuses, Killmeyer told the Intermediate Unit, if an employee recommends someone who is interviewed and then hired, the referral receives a $500 bonus.
"Your own employees can be your best ambassador because they can tell their friend 'this is a good place to work' and that might be something their friend never thought of," Killmeyer said.
But these employees might not want to serve in these ambassadorial roles. The Associated Press article "The Conversation" cited another reason – working conditions – contributing to elements of the shortage related to experienced teachers leaving the profession.
Over the past decade, annual teacher turnover has been estimated at around 8% per year. Before the pandemic, about 1 in 6 teachers (about 16%) said they were likely to quit their job. Since then, this figure has risen to around 1 in 4 (25%)
"The Conversation" concluded that teachers are poorly paid – nationally, teachers earn about 20% less than professionals with similar training. Teachers report facing outside factors – administrators, state regulators and parents – controlling what and how they teach.
Teachers across the country are also reporting an increase in disrespect — as well as an increase in physical and verbal harassment — from students and parents, the Associated Press reported.
Security "the highest priority"
Beginning Monday, when Farrell students return to class, Mercer County Schools will welcome youngsters into their classroom under a long shadow at the end of last school year.
On May 24, just days before the end of spring classes, a gunman invaded Webb Elementary School in Uvalde, Texas, killing 19 students and two teachers, once again putting the safety of the school in the spotlight. school.
At Sharon Glaros, the safety of students and staff is the district's "highest priority". She said the district is working with state authorities and said Sharon is already implementing most of their recommendations.
"We always have concerns because I feel like every threat is never anticipated," she said. "But I feel comfortable about where we are in terms of preparing for the best in the worst case."
In the Hermitage School District, Bell said he would continue to have armed officers on both campuses, including Hickory High School and elementary and middle schools, at all times.
Although he wouldn't reveal details for security reasons, Bell said some of the schools' security measures include cameras and metal detectors.
However, improving district safety was an "ongoing process" for school officials.
"Safety is something we already take very seriously, but unfortunately every time you see one of these tragedies, it puts an extra emphasis on it for us," Bell said.
One of the problems encountered during the Uvalde shooting was the number of departments and agencies involved and an unclear chain of command.
At the Hermitage School District, School Resource Officers are members of the Hermitage Police Department, eliminating any separation between school safety and law enforcement.
If there was an emergency in the district, Bell said the Hermitage Police Department would take the initiative to handle the situation.
Intermediate Unit's Killmeyer said school safety remains a high priority for superintendents.
Although no official has approached the Midstream Unit specifically about security, Killmeyer said there are grants and funds to help districts improve their security measures.
One source of help is the state budget, which includes a program where school officials can outline their safety plans and receive $100,000 for safety improvements. Other grants have been streamlined to make funds more accessible to school officials, Killmeyer said.
"From what I've heard from superintendents, the application process for this security funding has been easier than some of the other grants out there," Killmeyer said.
Like David L. Dye on Facebook or email him at .